The Folding Society
Bromptons in Barcelona
By Bob MacQueen
---
I have just returned from a trip to Barcelona and was amazed at how many Bromptons and other folders there were on the streets, and we also managed to hire a couple of Brommies for a day!
The trip was a treat for out 25th wedding anniversary and as I dislike flying and like to use a less environmentally damaging mode of transport - are you reading this Mr Blair? - we decided to take the train. This proved easy and very enjoyable. By using Eurostar to Paris we were able to have a day in Paris and then take the Hotel Tren to Barcelona. This leaves the Gare Austerlitz at 8 pm and arrives the next morning at 8 am. We travelled Gran Classe which gets you a double cabin of your own and a shower and toilet compartment. Also included in the fare is a three course evening meal with wine and a substantial breakfast. the fares whilst obviously more than the cheap airfares are very reasonable especially compared with UK train fares! The cost each way per person is £130, which remember includes the meals and a bed for the night - about the same as Birmingham London on Virgin at peak times.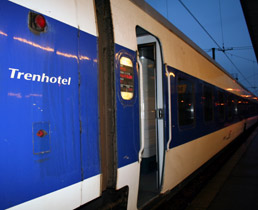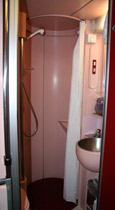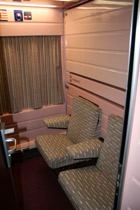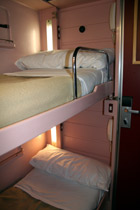 The Tren Hotel Gran Classe shower, day seating and night.
We did consider taking the Bromptons but decided that as we were unsure about the carrying in the trains and also wanting to take a reasonable amount of luggage we decided against, you could get the bikes in your cabin - they are allowed if bagged - but it would be a tight fit.
Barcelona was a delight with weather in the high teens and lots of sun - quite a change from grey old Britain. As soon as we arrived we started spotting Bromptons - I knew there were some there as I had read about the 'World Championships' help there last year but was amazed at the number of Bromptons and Dahons as well as other small wheeled machines. No Moultons though.
I managed to have a short conversation with a Brompton owner who had a very well equipped blue 6 speed with seat extension, Brooks saddle and leather bar grips. He told me about the nearest Brompton shop but as it was New Year they would be shut until the 2nd and then only open from 4 pm to 7 pm.
We decided to find the shop anyway and were amazed that it was only a few hundred metres from our hotel, but hidden away in a small square. The shutters were down - but the painting on them told us we had found the right place.
Brompton shop
We visited the shop the following day and found it to be full of just Bromptons and accessories, by far the largest stock I have seen anywhere, and Danni the owner proved to have excellent English and was a happy and very friendly owner. we purchased some leather hand grips and he gave us a couple of pairs of trouser clips - very fetching red and chrome ones rather than the standard British dayglo yellow.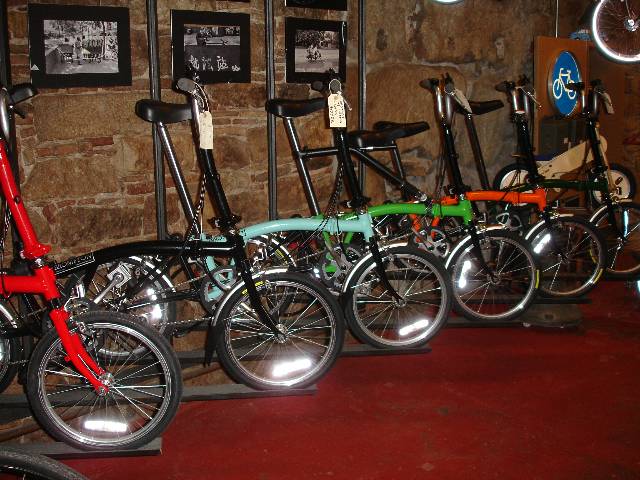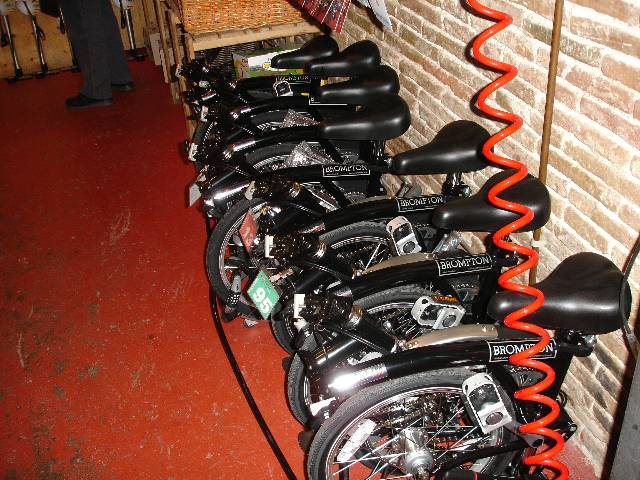 Some of the impressive stock - so this is where all the Bromptons are - no wonder we have to wait in the UK!
As well as the Bromptons for sale Danni showed us the winning bike from the 'World Championship' which was won by the team from the shop.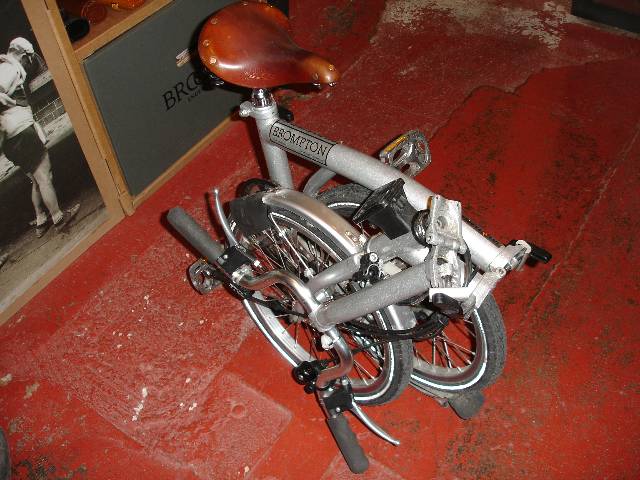 Winning Brompton - note Brooks - they nearly all have them!
Also of interest was the "gate" that divided the shop from the workshop at the rear - Danni said it was a very early frame;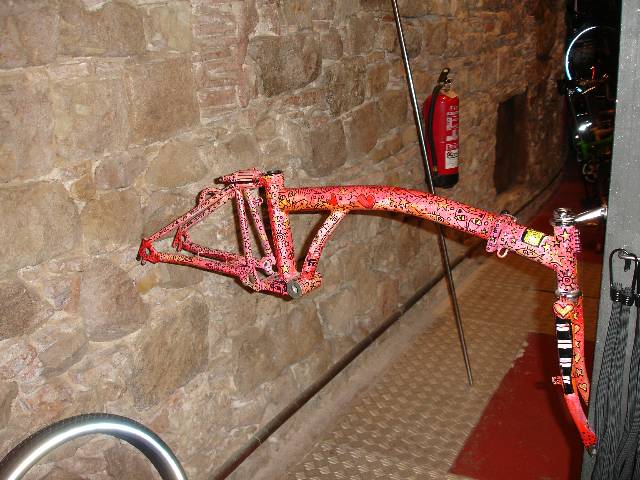 The frame hinge was used as the gate hinge the head being fixed to the wall - note the lovely paint job!
Danni informed us that there were three Brompton dealers in Barcelona and he estimated 3000 Bromptons, and I can believe that figure. The reason for the love of folders is the large number of flats with nowhere to park a bike and the large number of bikes that are stolen in Barcelona, street crime is very high - we were robbed, handbag snatched.
He only opens for a few hours a day as he says he is too busy maintaining and preparing bikes, he is open all day on Saturday. The address if you are in Barcelona is Cap Problema Bicicletes Placa dels Traginers 3 - 08002 Barcelona. The website is http://www.capproblema.com.
We asked Danni about hiring a couple of Bromptons and he said he didn't hire but he knew someone who did, so he made a quick phone call and we rushed off to a hire shop which was fairly near and called Un Menys - or One less Car. they have Bromptons for hire - they are C3s although seem to have dual pull brakes. Their address is Un Cotxe Menys Bicicleta Barcelona C/ Esparteria, 3 08003 Barcelona Tel: (+34) 932 68 21 05 Fax: (+34) 93 319 42 98.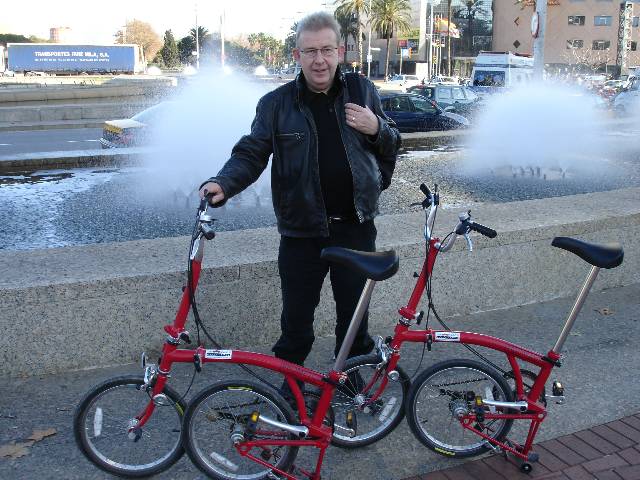 Bob and Bromptons
We had a really good day riding around Barcelona which has an excellent network of paths and other cycle facilities and where there is a real move towards increased use of bikes for transport. Bikes are ridden amongst pedestrians in traffic free areas without any apparent conflict and it seems accepted. Most cyclists do seem to behave better than pavement riders in the UK and there is little conflict. They do, however practise the "what red light" at traffic signals! Nearly all light controlled pedestrian crossings are also bike crossings with dropped kerbs and a separate marked crossing alongside the pedestrian ones. A frequently found feature on dual carriageways is to find the bike lane on the outside of the road alongside the central reservation - you reach them at the traffic lights - and this overcomes the problem of parked cars.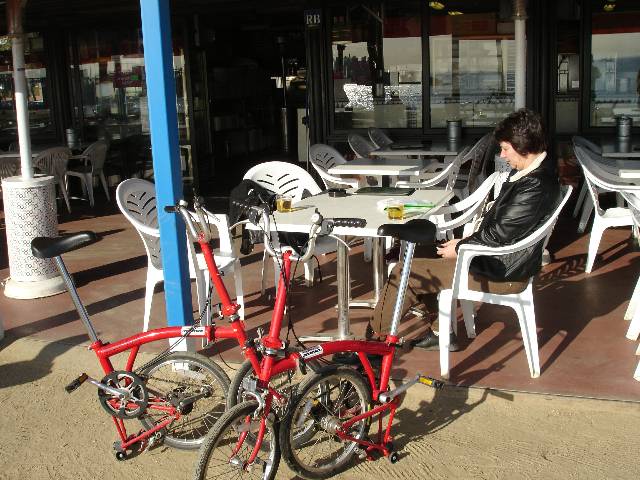 Karen and Bromptons doing what the Spanish do - sit at a cafe with folded bikes!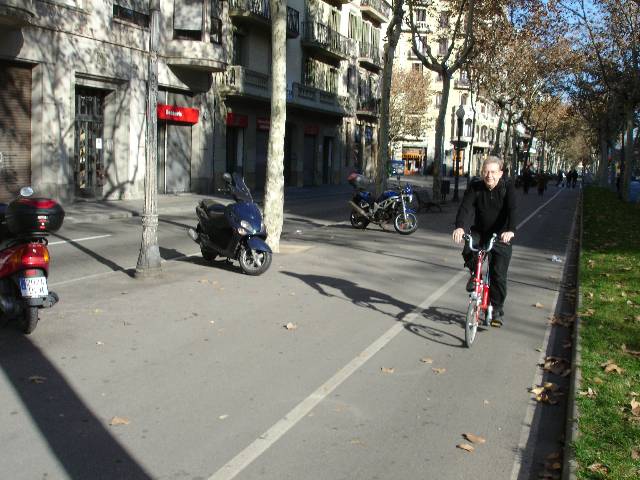 One of the many bike lanes.
So if you find yourself in Barcelona do say hello to Danni and hire a Brompton - or take your own.
What about a British team for the World Championships this year? It should take place in April and we should really have a British team - complete with Bowlers I feel!
---
---